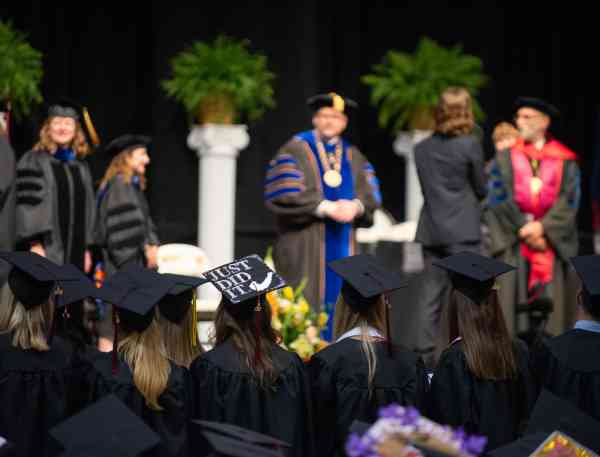 Mizzou celebrates Fall 2019 graduates this weekend, December 13 – 15. Among them are more than 300 earning their degrees online. Members of Mizzou's graduating online class live in 36 states and two countries — some as far away as China. Ranging in age from 21 to 64, the graduates are earning degrees from the bachelor's to the PhD level.
Do something every day that dares you
Lu Ann Cahn-Houser of Bala Cynwyd, Pennsylvania, is earning a master's in journalism with an emphasis in media management, a degree that "has been 10 years in the making!" And it all started with a dare.
In 2009, Lu Ann was feeling "stuck." Although she had a career as an Emmy-winning investigative reporter at a news station in Philadelphia and had just fought and defeated cancer twice, she felt miserable. Knowing she needed a change, Lu Ann's daughter dared her to do something new every day for a year and blog about it. That blog turned into a book and the year-long journey changed Lu Ann's life.
One of these dares was to earn her master's degree. However, she found that a traditional in-seat program wouldn't work with her busy career, family life and other obligations. She discovered Mizzou's online program, and it was a perfect fit.
While learning online was a new experience for Lu Ann, she was up for the challenge, and she found immense value in the program. She was able to meet peers around the world. The course work was applicable to both her previous role as a television reporter and her new role as the Klein College of Media and Communication Director of Career Services at Temple University — a switch she made halfway through the master's program.
"Even though you're getting your degree online, you're getting Mizzou's brand of this very highly respected journalism program," she said. "I was impressed with my professors all along the way. I was learning in a new way. I was really being challenged."
Staying true to her bold mentality, Lu Ann decided to road trip with her friends to commencement this weekend. She simply couldn't pass up the dare.
Embrace the gift of knowledge
On the other side of the country, Shannin Preshinger of Helena, Montana, had a similar need as Lu Ann. As a full-time teacher and mother of two, Shannin needed a flexible program. Beyond that, she couldn't find a nearby master's program that offered an English education emphasis. Enter Mizzou's online master's in English education.
As a high school English teacher, Shannin was looking for a program where she could hone her skills and improve the learning experience for her students. She embraces the "always be learning" mentality and hopes her students and children — who are currently college students themselves — will take her experience as an example.
"The University of Missouri is top notch," Shannin said. "I feel like I got the highest quality education from a very prestigious university without having to leave my own town, state or my own house. … All of the course work I could apply immediately to my classroom. It challenged me to think deeper, to be more reflective in my practice."
This weekend, Shannin will be celebrating her degree from home in Montana, but she still feels strongly connected to Mizzou. "I made a few very strong connections that bridged the Internet."
What's next for Shannin in her career? The sky is the limit. "This program opens a lot of doors for me," said Shannin. "I have opportunities now that I wouldn't have had without the University of Missouri."
Take a risk
While Vanessa Whittle of Waynesville, Missouri, lives a bit closer to campus than Lu Ann or Shannin, like them she also has little time to spare in her schedule.
As a middle school social studies teacher, Vanessa is also a go-to learning technology resource for her school. She found that the educational specialist in learning technologies and design was the right blend of course work she needed to impact her career.
In the program, Vanessa found a network of educators worldwide and felt that their perspectives were an important element of her experience. "I've been in classes with people who live in Italy and on the West Coast. I have a network of people across the country who aren't just from right here in Missouri."
Like Shannin, Vanessa is hoping to inspire her students and children. "I think that learning should take place at all ages," she said. "Part of a reason I'm walking at commencement is to set a good example for my students and for my own kids. It doesn't matter how old you are, you can go back, earn your degree and change the course of your career. … All of us tend to doubt ourselves, and trying something new is a risk."
Vanessa took that risk and impacted her life and career along the way.
---
Join us in celebrating the graduating class on their online commencement ceremony website. Drop a congratulatory note in the guest book. Listen to inspiring words from Sinclair School of Nursing Dean Sarah Thompson, PhD.
Earning your online degree this weekend? Share your experience with us on social media using #OnlineStripes:
Ready to earn your own #OnlineStripes? Join more than 340,000 Mizzou alumni making a difference across the globe. Learn more about Mizzou's 125+ online degrees and certificates.