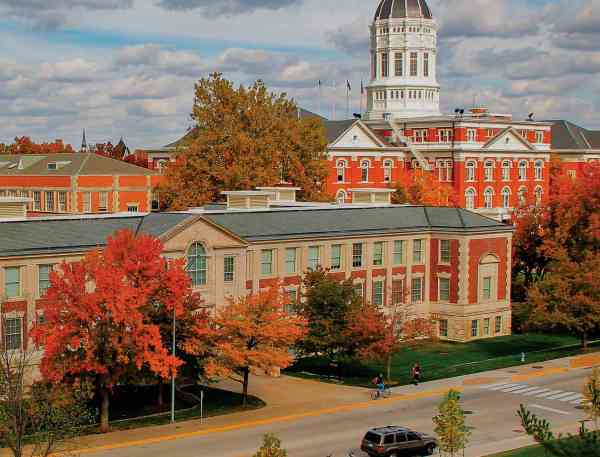 The University of Missouri College of Education is now accepting applications for two online degree programs previously only available to on-campus students. The bachelor of educational studies and the master of education in educational psychology with a focus in student learning and well-being will both offer online classes beginning in January.
"The MU College of Education is committed to providing students access to quality education programs whether they live in Columbia, Mo., or thousands of miles around the world," says Daniel L. Clay, dean of the MU College of Education. "With more than 30 online and hybrid degree programs, the college continues to be an online leader at MU."
"Adding these options to Mizzou's online portfolio is an important step in fulfilling our mission as a public, land-grant institution," said Jim Spain, vice provost for undergraduate students and interim vice provost for e-Learning. "Because Mizzou's online courses are taught by the same faculty who teach on campus, students have increased access to the very best Mizzou has to offer."
Bachelor of Educational Studies (BES)
The bachelor of educational studies is designed for professionals wanting to work in adult and continuing education or in workforce training programs. The degree program is especially well-suited to military veterans who have not yet earned a bachelor's degree. College of Education advisers and faculty members will work with the MU Veterans Center to support active duty and veteran military service members in the program.
While the college has been offering online graduate degrees for years, this is the college's first online undergraduate degree option. "The online BES prepares students for a variety of careers working with adult learners. This includes instructional and administrative positions at community colleges, as well as professional opportunities in workforce development programs, human resource training and continuing professional education," said Tony Barbis, BES program coordinator and College of Education associate teaching professor. "Students are given quite a bit of latitude in choosing courses that best meet their particular educational goals."
Because the program is designed for career fields that work with adult learners, it does not lead to Missouri state teacher certification. Applications for the BES are due Dec. 1, 2013. Courses in the program are 100 percent online.
Student Learning and Well-Being (M Ed)
Created by faculty in the Educational, School and Counseling Psychology Department, this graduate focus area is for K-12 teachers who want to focus on the whole student while improving learning. Courses will cover bullying, violence prevention, positive psychology, classroom assessments, human learning and the creation of supportive learning environments.
"We have focused on course work that will encourage teachers to approach learning and student well-being as two inseparable parts of the whole student," said Stephen Whitney, program coordinator and Educational Psychology associate professor. "Teachers will benefit from practical solutions created to decrease barriers and increase learning."
The GRE is not required for admission to the program. Graduate students enrolled in the online program pay in-state tuition regardless of where they live. Applicants should submit their materials as soon as possible in order to gain admission to the University for January 2014 course work.