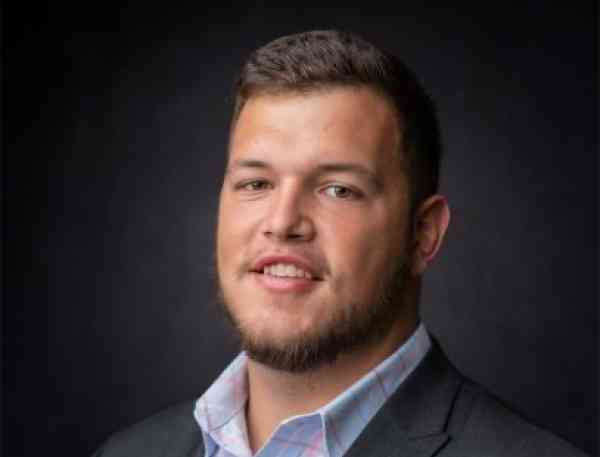 After earning a bachelor's degree in mining engineering, Morgan Schenck knew he wanted to earn a master's degree right away. Instead of pursuing an MBA, he chose to combine two graduate certificates and build his own master's program based on his interests. Working with Dr. Kwame Awuah-Offei from Missouri University of Science and Technology's (Missouri S&T) Department of Mining and Explosives Engineering, he crafted his path to a master's in mining engineering.
"I knew I wanted to stay in the mining field," Schenck said. "Getting an engineering master's with this emphasis would set me apart."
This year, he earned his master's, which combines course work for graduate certificates in mining project evaluation (College of Engineering and Computing) and finance (Kummer College of Innovation, Entrepreneurship, and Economic Development). His course work was 100% online, allowing him to work full-time while advancing his career knowledge in two to three classes per semester.
"You're able to work full time and start your career because you don't have to go to school in person every day," he said.
Schenck said he's proud of what he accomplished and encourages others interested in mining engineering to build a customized master's program.
"You can split up your grad certificates to cater to what you want to do in the future. With more mining knowledge and experience, you have more options," he said. 
He said Missouri S&T's outstanding reputation made him a more credible, high-demand candidate for jobs. 
"Thousands of companies want you because you graduated from Missouri S&T. It has credibility like no other. Not many people are getting offers like Missouri S&T graduates get."
He currently works for an aggregates company, Summit Materials, in Wichita, Kansas. 
Schenck chose Missouri S&T partly because of its reputation for offering students a large return on investment. He worked closely with Dr. Awuah-Offei to assemble the ideal program.
"It's nothing less than a good investment in your future. It's a wonderful university. Most graduates have a better pay scale than others, too."
In the future, Schenck wants to own his own business or move to top-level management. He is pleased with the future he's created for himself and proud to be a mining alumnus.
"It sets you up for success early in life. The community of alumni is awesome everywhere I go."
About the programs
The mining engineering master's from the Department of Mining and Explosives Engineering is one of the oldest and most reputable programs in the U.S. It has been ranked among 2022's "Best Online Programs" by U.S. News & World Report. Most students finish the required 30 credit hours in three years or fewer.  
Missouri S&T allows students to combine or stack graduate certificates that build toward a master's. Each graduate certificate requires 12 credit hours, which can be completed in one to two years. Programs are subject to adviser approval. 
Graduate certificates in mining specializations: 
Aggregates management
Mine reclamation
Mining project evaluation
Mining engineering
Sustainability in mining
Contact us
To learn more, or for questions about the master's or graduate certificate pathways, reach out to us via email at Mining@mst.edu.