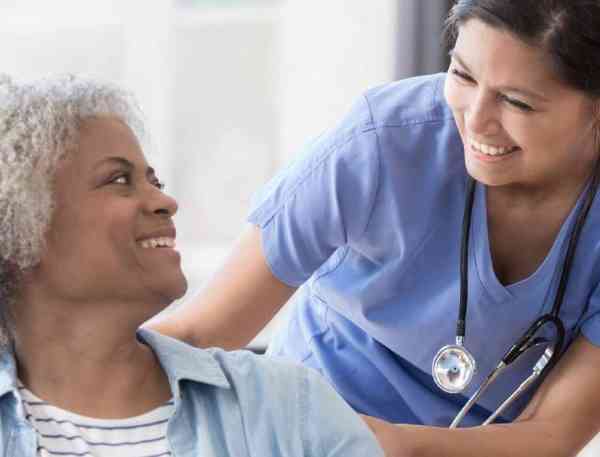 Thinking of furthering your career? On this episode of Online Stripes, we hear from four of our graduates — Jennifer Krtek, Brooklyn Kolbe, Ashley Shaw and Callie Rinehart — and hear what attracted them to getting their degrees online at Mizzou.
Compassion. Dedication. Commitment. Caring. That's nursing. And today, more than ever, there's a huge demand for quality, high-skilled nurses all over the country – and around the globe. At Mizzou, we attract students from all over the world who want to further their nursing careers and make a positive impact on the lives of others.
Learn more about Mizzou's online nursing degrees and certificates.
For most, nursing is a calling, not a job. Our nursing students — whether they're working towards their bachelor's, master's, doctorate, or certificate — each have their own personal story of what led them to Mizzou.
Jennifer Krtek, who has been a nurse for 14 years, earned her BSN degree through the RN to BSN program at Mizzou, while taking care of a family and holding down a full-time job.
Krtek: "Mizzou's a prestigious university. It's well-known throughout the country and, I think, all over the world really actually and so I felt like it was important to show people that I was going to the best of the best. I was able to learn more about research and the new things that were coming out and they took things that I maybe hadn't been exposed to and they added that to what I already knew."
Brooklyn Kolbe received her doctorate from Mizzou — online.
Kolbe: "Ever since I was a kid, I wanted to go to MU. MU was important to me. It is prestigious, well-known in the field of nursing. One of the biggest strengths of the program at MU is the faculty. Right from the go, they treat you as a colleague, because that's honestly how they see you. You know, I'm a single mom. I have kids at home. I mean, the online non-traditional student was the way to go for me."
Ashley Shaw graduated with a PhD in nursing. She also received both her undergraduate degree in exercise science at Mizzou, as well as her master's in public health. 
Shaw: "The program offered is more of an interdisciplinary program and I was really interested in women's health, intimate partner violence particularly, and I thought it would be a really good fit so I could continue as a researcher and educator. Actually, I love the flexibility in the program so I didn't necessarily have to be here. The faculty were really supportive. If I needed anything, they're always a Skype call away." 
Callie Rinehart loved working in patient care, but as she got older she wanted to concentrate on administrative leadership, so turned to Mizzou to get her master's in leadership in nursing and health care systems.
Rinehart: "Reading about the actual leadership program and the qualities that you would come out with after you were finished with the program was very, it meant a lot to me. Their motto is just…enriching. I don't feel like all programs have that type of enthusiasm that they take to building their nurses and making them great when they come out."
So if you're thinking about continuing YOUR education in nursing or another field of study at Mizzou, Jennifer Krtek has some good advice!
Krtek: "I would absolutely say jump in and do it." 
Tune in to our next episode of Online Stripes. Presented by the University of Missouri — home of Mizzou Online. Available on Spotify, Apple Podcasts, iHeart Radio, and smart speakers.