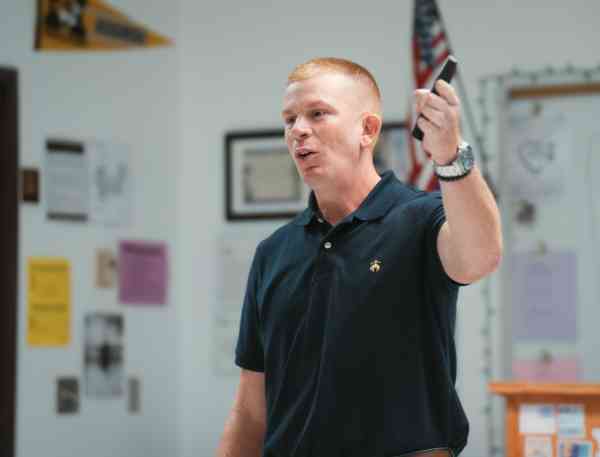 Andrew LeFors, high school social studies teacher and girls cross country coach, honed his passion for education in two University of Missouri System schools — earning his bachelor's degree doing course work through both the University of Missouri-Columbia (Mizzou) and the University of Missouri-St. Louis (UMSL). He earned a master of education in teaching and instruction from UMSL and returned to Mizzou for his master of education in positive coaching and athletic leadership in an innovative program offered through Missouri Online. 
LeFors worked as a coach for about seven years before entering the Mizzou program, which combines training in athletic leadership with techniques from the field of positive psychology. He wanted to incorporate research-based strategies into his work as a coach and classroom teacher at Ft. Zumwalt West High School in O'Fallon, Missouri. He hoped the online M Ed in positive coaching would give him strategies he could incorporate into practice right away.  
"I couldn't have been happier," LeFors said. "Whenever you start something new, you take a leap of faith. I'm proud of what I was able to learn and accomplish. I think it's one of the best things I did to upgrade my skill set once I became a professional."
He first learned about the program through a positive coaching event he attended on the Mizzou campus. That gave him insight into how positive coaching might benefit his career and his students. 
"It was valuable, applicable, and relevant to my professional life. It was one of the best programs I discovered," he said. 
High-quality degree backed by a major university
LeFors said the outstanding professors set high standards that ensured he would receive a quality education through the 100% online program.
"I wasn't looking for a filler degree, a piece of paper. I was looking for something with meaning and professional application."
He balanced studying with his full-time job, taking two classes per semester to finish in about four years. 
"It wasn't directly about teaching but it made me a better teacher, a better coach. It rounded out things I wanted in my professional practice. It was a program that would help me discover strategies to become a better mentor to students and athletes."
The professional connections he developed throughout the program were one of the parts he liked best. His professors challenged him to build on his existing knowledge with new ways of thinking. 
"They found different ways, angles and voices to address a common goal — exposing you to new approaches and schools of thought. I appreciated the holistic approach." 
Education built for the real world
The ability to study online was essential to LeFors. Like many others, he balanced the program with his full-time work responsibilities and personal life.
"I could navigate the expectations and the requirements of my courses around the demands which already existed in my life. I didn't have to sacrifice in terms of my professional responsibilities."
Beyond that, LeFors said he wants people considering the program to know that it goes beyond expectations, preparing you for a future, regardless of your past experience.
"It delivered on everything that I hoped it would. It gave me a skill set that, for people in education or coaching, or both, was really practical and applicable. You can use it in real life."
He found the course work material engaging and relevant to his professional life.
"It had a direct relationship to my professional practice. "I could study and apply what I learned immediately to my classroom or coaching practice. I felt it was making me better at my job all along the way."
LeFors says he still references notebooks and material he used while studying to help him make challenging coaching decisions today. If a student seems unwilling to accept instructions or an athlete needs support with motivation, he reflects on the psychology that may be driving the behavior.
"I think about difficult issues and any unique problem that comes with mentoring people, considering the best way to get results and break old mindsets that block motivation."
He looks forward to continuing in his roles as a high school teacher and coach, confident that he's gained skills that can help him have a positive impact on students and student-athletes. He also thinks the program has helped him become a stronger professional overall. 
About the program
Mizzou's College of Education & Human Development offers a wide range of emphasis areas, including this 100% online emphasis in positive coaching and athletic leadership. Housed in the Department of Educational, School and Counseling Psychology, courses focus on identifying and applying the most pertinent and impactful aspects of sport, coaching and positive psychology. Intended for athletic coaches and sports coordinators with bachelor's degrees to advance their education in 30 credit hours.