Master of arts
Understand how the world works by earning an online master of arts in economics from the University of Missouri. Economics ripples through society beyond supply and demand. Theories and outcomes influence industries from finance and banking through healthcare and cross international borders. Today, the growing field of data analytics drives how economists make predictions, allowing for greater accuracy, more context and more nuanced forecasts.
Our online master's in economics stands on these principles. A flexible, career-enhancing degree for individuals across a spectrum of backgrounds, this program fuses economic theory with modern data analytics applications. This framework provides detailed insights into globalization and big data usage and prepares you to make an impact in international trade, international finance, economic development and the public sector through analysis and research.
Quick facts
Official name
Masters of arts in economics
Campus
University of Missouri-Columbia
Program type
Master's degree
Academic home
College of Arts & Science | Department of Economics
Delivery mode
100% online
Accreditation
Higher Learning Commission
Credit hours
30
Estimated cost
$15,780.00
*This cost is for illustrative purposes only. Your hours and costs will differ, depending on your transfer hours, your course choices and your academic progress. See more about tuition and financial aid.
Careers
What does the future hold? Why is the past significant? Economists conduct quantitative research to answer these questions. Results influence policy, contribute to organizational strategy and help boost profits across a range of industries.
Today, data analytics pairs economic theory with concrete findings. These numbers predict potential outcomes, optimize existing services and substantiate market trends domestically and internationally. Mizzou's online master's in economics begins from this intersection. You'll grow your understanding of econometrics and statistical analysis to glean meaningful insights from large data sets. 
These tools transform you into a professional ready to:
Anticipate shifts and outcomes within the global marketplace
Influence economic development and public sector programs
Connect current and past events with future economic outcomes in international trading and finance
Factor in multiple internal and external economic variables to make more accurate forecasts
Determine why things happen and strengthen organizational decisions with hard data
Mizzou's Department of Economics prepares all students to tackle current challenges and make sound predictions. You'll learn to conduct research, observing political, social and organizational issues to connect the past with the present. At the same time, hands-on course work shows you how to contend with a real-world problem. Through theories, a foundation in macro- and microeconomics and training in data analysis programs, you'll be able to arrive at a clear conclusion and defend your perspective.
Considering this process, the online master's in economics program elevates the careers of individuals with a background in finance, engineering, accounting, management, statistics, mathematics or economics or helps you transition into a more research- and data-based role.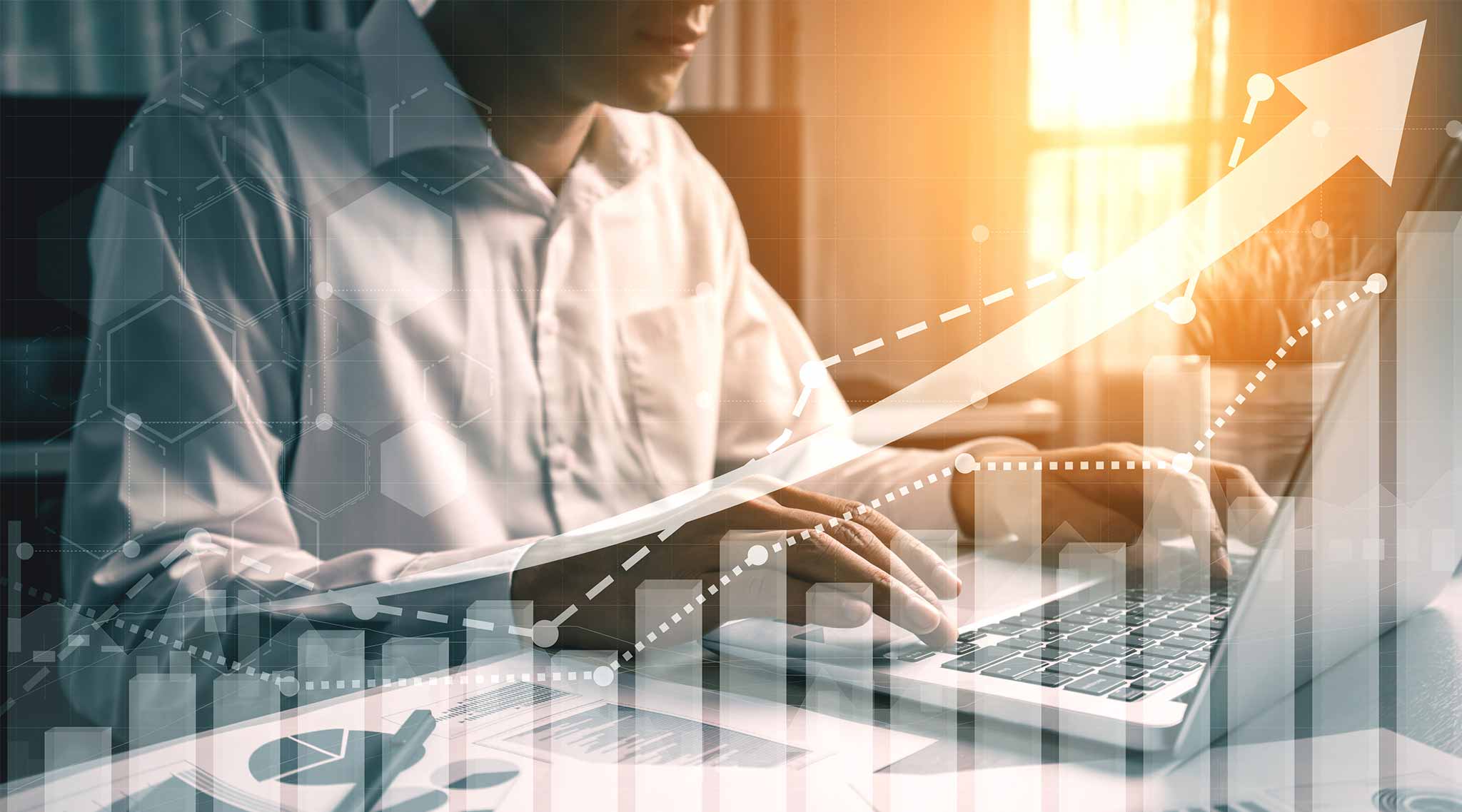 Career prospects
What can you do with a master's in economics?
Online master's in economics students typically find themselves on one of two paths following graduation: as an economist or data analyst. With positions available from the private sector to government organizations, recent graduates hold such titles as:
Data scientist
Director of institutional research
Economic development incentive specialist
Energy markets manager
Lecturer in economics
Quantitative modeling analyst
Burning Glass Technologies. 2021. Salary numbers and employment growth numbers are based on models that consider advertised job posting salary, Bureau of Labor Statistics data and other proprietary and public sources of information for multiple occupations.
Employment growth
Burning Glass Technologies. 2021. Salary numbers and employment growth numbers are based on models that consider advertised job posting salary, Bureau of Labor Statistics data and other proprietary and public sources of information for multiple occupations.
Median salary
Program structure
You'll see how the world of economics works through 30 credit hours of courses, all fully online. No campus visits are required. The typical online master's in economics student takes one to two courses per semester to finish their degree in two years.
While the program emphasizes data analytics applications, its core courses (18 credit hours) focus on economic theory, application and research and encourage you to think globally. Going beyond, subjects introduce analytics software, programming languages and usage in the context of economics. Research involving the analysis of data sets helps reinforce your skills.
This foundation sets the stage for more specialized, industry-specific elective courses (12 credit hours). See how data analytics and economics play a role in international trade, the banking system, game theory and other mathematical models, econometrics, applied statistics and public economics. 
Course work
Satisfy your curiosity about how the global economy operates. Course work helps you make informed predictions and conduct data-based research to:
Understand economic theories from a mathematical perspective.
Learn to estimate and forecast through quantitative data analysis. 
Explore the microeconomics of consumption, production, pricing and competition.
Expand what you know about macroeconomic models.
Analyze data to make economic predictions.
See how economists conduct research. 
Delivery
100% online
Calendar system
Semester-based
Typical program length
2 years
Typical course load
1 or 2 classes each semester
Accreditation
The University of Missouri is accredited by the Higher Learning Commission, one of six regional institutional accreditors in the United States.
Learn more about this program