Overview
The online master's degree in early childhood education from MU can help you better design, implement and evaluate educational services for children from birth through age 8, especially those with special needs and those with challenging behaviors. If you want to advance or recharge your teaching career, this may be the degree for you.
This program does not provide early childhood certification, nor does it provide the initial certification required to become a teacher.
Quick facts
Official name
Master of education in learning, teaching and curriculum with an emphasis in early childhood education
Campus
University of Missouri
Program type
Master's degree
Academic home
College of Education | Department of Learning, Teaching and Curriculum
Delivery mode
100% online
Accreditation
Higher Learning Commission, Teacher Education Accreditation Council
Credit hours
30
Estimated cost
$13,903.50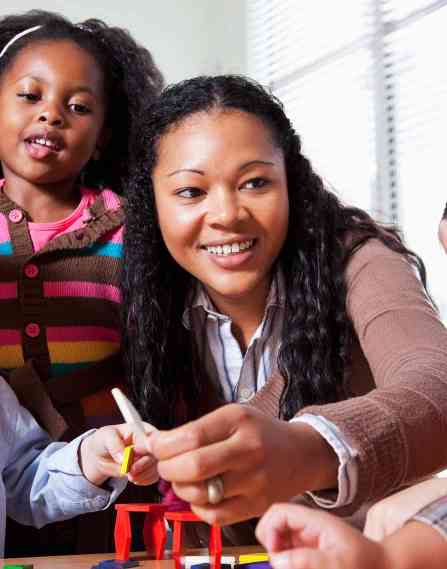 Career prospects
This degree has potential benefits for
Child-care center staff workers
Early childhood practitioners
Early childhood special education teachers
Head Start teachers
Kindergarten or primary-grade teachers
Preschool teachers
Bureau of Labor Statistics, U.S. Department of Labor, Occupational Outlook Handbook, 2016-17 Edition, Kindergarten and Elementary School Teachers
Employment growth
Percentage by which the average base salary of a full-time teacher in a U.S. public elementary or secondary school with a master's degree exceeds that of a teacher with a bachelor's degree, 2007–08. Snyder, T.D., and Dillow, S.A. (2011). Digest of Education Statistics 2010 (NCES 2011-015). National Center for Education Statistics, Institute of Education Sciences, U.S. Department of Education. Washington, D.C.
Average salary increase
Program structure
Delivery of this program is 100 percent online: no campus visits are required.
Courses are semester-based. Students typically take one or two classes each semester and finish in two years.
This program emphasizes
Working with diverse groups of children and families
Working with children with disabilities, including autism
Implementing appropriate assessment methods
Creating inclusive classrooms
Promoting and enhancing language and early literacy development
Positive approaches to addressing children's social and emotional development
Delivery
100% online
Calendar system
Semester-based
Typical program length
2 years
Typical course load
1 or 2 classes each semester
Learn more about this program