Master of education
School goes beyond academics to strengthening social skills and fostering each student's socioemotional development. School counselors help establish this foundation, often with the goal of reducing bullying, instilling resilience, encouraging diversity and advocating for all students. Districts increasingly realize the importance of supporting student mental health and creating an inclusive atmosphere for all, and this pattern has since fueled demand for more school counselors — in Missouri and beyond.
Ready to make a difference in the lives of current and future students? Prepare for licensure while growing your understanding of socioemotional development in children and adolescents with an online master of education with an emphasis in school counseling from the University of Missouri (Mizzou). With the option to pursue licensure at elementary, secondary or all levels, this program blending online learning with two practicum assignments stands upon Mizzou's decades-long legacy and diversity-centered mission while accommodating working professionals and individuals in rural areas looking to uplift their communities.
Graduates will be license-eligible as school counselors in the state of Missouri at both the elementary and secondary levels. Most states honor reciprocity from Missouri's school counseling certification; check your state's requirements.
Quick facts
Official name
Master of education in educational, school and counseling psychology with an emphasis in school counselor, elementary and secondary, certification
Campus
University of Missouri-Columbia
Program type
Master's degree
Academic home
College of Education & Human Development | Department of Educational, School and Counseling Psychology
Delivery mode
100% online
Accreditation
Higher Learning Commission, Missouri Department of Elementary and Secondary Education (DESE)
Credit hours
60
Estimated cost
$32,100.00
*This cost is for illustrative purposes only. Your hours and costs will differ, depending on your transfer hours, your course choices and your academic progress. See more about tuition and financial aid.
About Mizzou's online master of education in school counseling
Mizzou is known for pioneering applied counseling psychology. Our counseling program was one of the first to receive American Psychological Association (APA) accreditation and has maintained that status since 1953. Our master's in school counseling programs are additionally accredited by the Missouri Department of Elementary and Secondary Education.
This history also emerges through the program's current format. To start, the curriculum is based around a science-practitioner method of training, in addition to a comprehensive school guidance and counseling program model — aspects established by Norm Gysbers, Ph.D., a former University of Missouri faculty member nationally and internationally recognized as "the father of modern school counseling." This approach emphasizes applied counseling psychology theory, research and practice while providing developmentally appropriate mental health support and career guidance.
Both with the online format and subjects introduced, the Department of Educational, School and Counseling Psychology looks ahead. Considered experts in vocational psychology, career assessments and school psychology, our nationally recognized and published faculty teach both on-campus and online courses and help shape this stage of your educational and career journey through mentorship. 
At the same time, our program centers around diversity, equity and inclusivity — from the instructors leading your virtual classroom to your fellow students to the message that we stress. In terms of your desired occupation, diversity-rooted counseling helps all students thrive and contributes toward a more welcoming, supportive school culture. With these goals in mind, this online master's in school counseling:
Trains you to think critically and apply scientifically based psychology theories to the K–12 environment
Helps you become an agent of change prepared to address social inequities through scholarship, counseling practice and advocacy
Emphasizes the importance of ethical, culturally competent counseling
Highlights how school counseling can be a tool of social justice, including advocating for students and supporting community mental health
Equips you to practice in socially and economically diverse school settings
Provides insight into the social, academic and mental health needs of children and adolescents
Instructs you in college and career counseling techniques to assist students in the next stage of their lives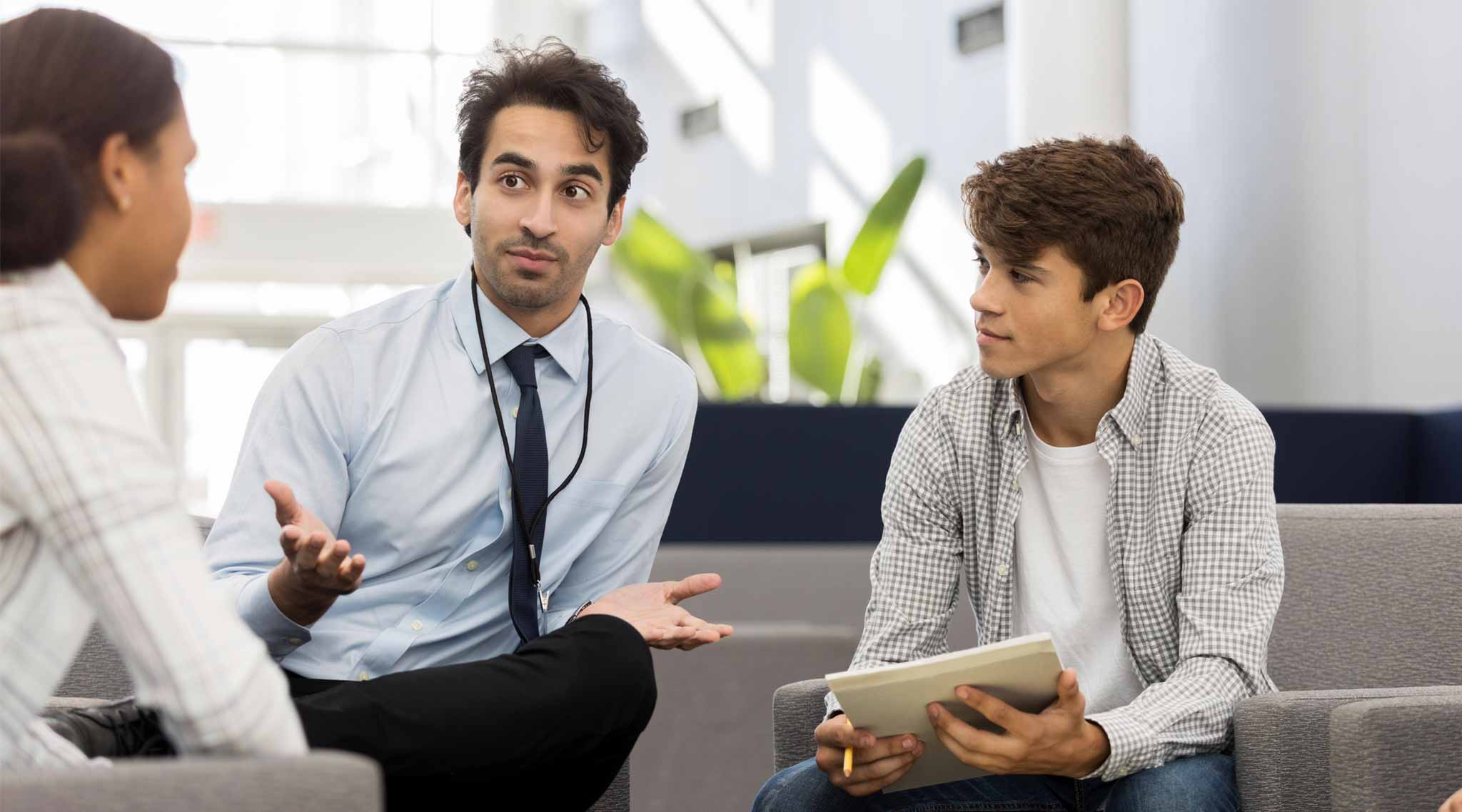 Career prospects
Be the force of change within your school. The online master's in school counseling gives you the tools to foster an inclusive, encouraging culture and provide K–12 students with the direction they need, whether for solving conflicts, managing difficult emotions, handling academic or social challenges or preparing for college and beyond.
If you envision yourself making this impact, the online master's in school counseling is ideal for psychology, K–12 and community organization professionals seeking a career change or looking to expand their skill set or credentials. The Bureau of Labor Statistics predicts 10% more roles for school counselors and advisers over the next decade. 
Completion of this program makes you eligible to pursue licensure as a Certified School Counselor in Missouri, including in elementary, middle and high schools and in applied settings.
Burning Glass Technologies. 2021. Salary numbers and employment growth numbers are based on models that consider advertised job posting salary, Bureau of Labor Statistics data and other proprietary and public sources of information for multiple occupations.
Employment growth
Burning Glass Technologies. 2021. Salary numbers and employment growth numbers are based on models that consider advertised job posting salary, Bureau of Labor Statistics data and other proprietary and public sources of information for multiple occupations.
median salary
Program structure
For this 60-credit-hour program, all courses are fully online and typically use an eight-week format. No on-campus visits are required, and students take one course at a time to finish their degree in about three years. 
No matter the certification desired, all students complete two practicum assignments. Nine semester hours are required for elementary and secondary certifications. Certification for all levels involves three additional semester hours. Your plan of study will include ESC_PS 8940: Counseling Psychology Practicum (12 credit hours), which requires the supervision of counseling in an approved setting.
If you do not currently have K–12 teaching certification, you will take six credit hours of teacher preparation courses in order to be eligible to obtain school counseling certification: ESC_PS 7000 and SPC_ED 7300. These courses are included within the 60 credit hours required to complete the program.
Required course work
You'll be introduced to counseling in a school setting through required courses covering:
Development across the lifespan, with focus given to children and adolescents
The legal and ethical aspects of school psychology
Education and psychology measurement and assessment strategies
Contemporary counseling theories involving the individual, multicultural awareness and the family system
Group counseling techniques
Behavior theory and socioemotional assessment techniques for conducting interventions
Evidence-based psychotherapies involving children and adolescents
Review all required courses and electives for the online master of education with an emphasis in school counseling. 
Delivery
100% online
Calendar system
8 weeks
Typical program length
3 years
Typical course load
1 class at a time
Faculty spotlight
Dr. Slaten researches the issue of academic belonging and how it impacts career and academic outcomes for marginalized youth and college students. This has led to work predominately in alternative high schools, schools with large population of students living in poverty and research on first-generation college students.
Christopher Slaten, PhD
Associate Professor, Program Director
Jacqueline Swank teaches in the mental health practices in schools and school counseling programs. She is a licensed mental health counselor and a licensed clinical social worker in Florida and is also a registered play therapist-supervisor. Her research interests include play and nature-based interventions with children and adolescents, counselor development and competency, assessment and international counseling.
Jacqueline Swank, PhD
Associate Teaching Professor, Department of Educational, School and Counseling Psychology
Learn more about this program