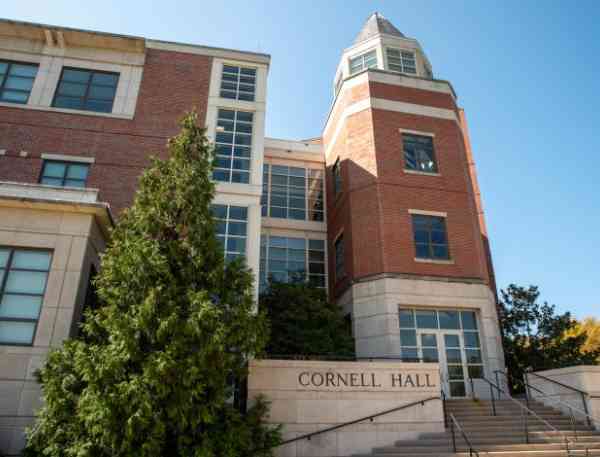 At home. Abroad. In a small town. In a large city.
The students who compose the community of the online bachelor of science of business administration program at the Trulaske College of Business come from all walks of life, yet they share one commonality — to earn a degree (or two) in a seamless way that caters to their busy daily schedules.
"The online BS BA program is really designed to meet the needs of a unique student population," said Michelle Kemp, director of undergraduate student services and online initiatives. "I love that our program provides opportunities for a variety of people who might not be able to pursue their degree otherwise."
Below are the stories of five Trulaske students who are working toward their BS BA degrees, while finding the time for full-time jobs, family life and everything else that comes their way.  
GRADY FRAZIER | COLUMBIA, MISSOURI
When it comes to his experience as a student in the BS BA program at the Trulaske College of Business, Grady Frazier says that an online class this past fall semester centered on the entrepreneurial mindset taught by Annette Kendall, director of the Center for Entrepreneurship and Innovation, has stood out to him the most thus far.
In the class, he was asked to do different tasks to experience the rejection — and the resiliency  — needed to succeed as an entrepreneur. He went to a garden store and asked for a half of a plant. He attempted to trade for a cup of custard instead of purchasing one. All of those experiences hearkened back to the following statement: "You're going to hear a lot of no's, but eventually you'll get to a yes."
As a burgeoning musician, Frazier can relate to that teaching moment. For years, the 27-year-old native of Mexico, Missouri, has been carving out a name for his music within his home state — and that was well before the COVID-19 health pandemic turned the music industry upside down.
"I'd say that my live show is similar to what Ed Sheeran does, but if Ed Sheeran grew up in the middle of the United States," says Frazier, referencing the English-born pop music star.
Frazier, who lives in Columbia, began taking classes in the BS BA program in the summer of 2019, after finishing an associate's degree at Moberly Area Community College (MACC), at the suggestion of a counselor at MACC.
He began in a hybrid format by balancing several online classes with one class in Cornell Hall before the pandemic forced him to take all of his classes online in the middle of the 2020 spring semester. He hopes to finish his degree in December 2021.
He appreciates the program's flexibility, having taken as many as 16 credit hours in a semester. This past August, he had to drop down to eight credit hours after increasing his role at The Crossing church in Columbia as a production assistant to a full-time capacity. His wife, Anna Lynne Frazier, BA, BA '14, also works at The Crossing as the church's digital content manager and lead editor.
"I have constantly adjusted my strategy based on where I am with work and life," Frazier says.
He saw the program at Trulaske as a way to gain the business savvy needed to become a successful recording artist, producer and business owner. In addition to signing with a label out of Kansas City in 2015, he also runs two limited liability companies: one for his studio recordings and one for live performances, which also includes serving as a DJ for weddings and other large events. He envisions one day being able to open up a rural studio space that is situated in a farm setting where musicians could grow inspired by the pastoral beauty of their surroundings. 
"I reached the point where I didn't know how to make this get bigger," Frazier says. "I just needed a whole philosophical change, and an environment where people are talking about business."
He maintains a very complex Excel spreadsheet that plots any possible class that he would want to take on his way to his degree. He initially began pursuing a music entrepreneurship certificate on top of his BS BA degree, but has since chosen a different path in the interest of graduating a semester earlier. Still, he is thankful for the knowledge that he was able to glean during the three courses he took that were affiliated with the certificate.
Since he began in the program, he has decided to add and has since dropped a certificate in music entrepreneurship due to pivots in his focus. He was able to glean knowledge from the three music entrepreneurship courses he took and decided cut the certificate in order to graduate a semester earlier. Saving time and money in the pursuit continuing to grow his business.
"The entrepreneurship classes have been very challenging for me," he says. "I have to work different muscles mentally, so my hope is that they push me to the point where I get used to being uncomfortable and can start to grow."
CASIA MARTINEZ | SUFFOLK, ENGLAND
Casia Martinez always wanted to finish her degree at the University of Missouri — but she wasn't sure how she could do so while being more than 4,200 miles away from Columbia, in Suffolk, England (about 90 minutes northeast of London).
Then a conversation with her older sister, LeAundra Jefferson BS BA '16, stoked those dreams again when LeAundra mentioned that she should look into the online BS BA program at the Trulaske College of Business.
"One day, she said, 'Oh did you know that they have a full online program?' After that, I said, 'OK, I'm applying today,'" recalls Martinez, who started to take online classes at Trulaske in the fall of 2019.
Martinez has lived in England since July 2017 with her husband, Josh, a senior airman in the U.S. Air Force, who is currently stationed at Royal Air Force Mildenhall. The two met in high school in Belleville, Illinois. She initially began at Mizzou in 2014 and attended for a year before transferring to a university that was closer to home, and to Josh. After leaving Columbia, though, she realized how much it meant to her to finish her Trulaske degree — right when the opportunity to live abroad presented itself.
She works full-time as an event manager for an on-base operation that caters for a variety of events. Although the COVID-19 pandemic has made dramatic changes to her daily routine, her workload has not stopped. "We've had to find ways of socially distancing everything," she says.
In spite of the six-hour time difference between England and Columbia, Martinez says has only had one class thus far that involved live discussion — making it easy for her to do her work and respond to class discussions on her own time. In the case of the class with the live discussion, she was given permission to watch a recording of the class discussions and then create her own reply.
Martinez also says that the Canvas learning management platform has been "amazing," noting that she only remembers one time when the Wi-Fi was down at the base — and that was for scheduled maintenance.
Originally, Martinez and her husband were scheduled to come back to the U.S. in July 2020, but they decided to accept an offer to extend their stay to July 2022.
"We would have been getting out in the midst of COVID," Martinez says. "So it actually worked out really nicely."
Once they return stateside, Martinez hopes to establish a business in which she can offer digital brand-building services for clients. For several years, she has maintained several online platforms to help chronicle her experiences living abroad, as well as providing insight on other topics such as beauty and travel. One of her most popular outlets is her YouTube channel, on which she goes by the name Casia Rose.
At the beginning of her journey, she established a blog in which she listed a "bucket list" of things to see and places to go in Europe. Before COVID hit, she had visited 12 European countries — and all of them lived up to their billing, she says.
On occasion, Martinez will meet a follower on the base who has watched her videos as preparation for moving abroad as a military spouse. Although she has formed strong bonds with some of her longtime followers, none of those connections can compare to the sense of community that has been forged through her experiences as an online student at Trulaske, she says.
"They'll say, 'Oh, you're Casia Rose.' They are almost looking up to me. They're wanting information or help," she says of her followers. "The main difference is with my classmates, we're all helping each other. We have a common ground. We're all going to the same school, and most of us are working full-time jobs at the same time."
Jefferson, who works out of St. Louis for the global consulting firm Protiviti, says that she is "super proud" of her younger sister for going off of her own timeline and taking a break to get a clearer idea of what she wanted to do with her life and career.
Martinez encourages those who are interested in following a similar path to hers to do the same when it comes to deciding to start or finish a degree as a working professional.
"Do something for yourself, because I know a lot of people may feel like they can only be a mom, or they can only be a wife, or a husband, or a dad," she says. "Take time to focus on yourself."
TENELLE BUFFORD | ST. LOUIS, MISSOURI
Tenelle Bufford has always been a vocal creator. As he has matured, though, his voice has changed shape and form in step with his vocational callings.
Growing up, he found his voice largely by writing and performing rap songs as part of a well-known hip hop duo called Souls of Liberty, a group he formed with Metro High School classmate and childhood friend Ryan Brown, BJ '13, in St. Louis.
"We're more family than friends," says Brown. "He's been the most consistent and solid person in my life outside of my parents."
The tandem started out with a big dream, one that would allow them to open for internationally known musical acts who made their way to Columbia, such as Kendrick Lamar and Bone Thugs-N-Harmony.
"I wanted to be this great artist in this group with my best friend," Bufford says. "We had some success, but I've pivoted my creativity." 
Now, he hopes to add his voice to the larger narrative of revitalizing the North St. Louis neighborhoods that he has always called home by investing in community-driven commercial real estate projects and business ventures.
"I want to have an impact on the city and how the city changes, because the city is changing. I just want to have a say in it," he says. 
To reach his dreams, Bufford is pursuing his BS BA through the online program offered at Trulaske while maintaining a busy schedule, serving as a basketball coach at Metro High School and as a package handler for FedEx.
After earning an associate's degree from a St. Louis area community college, Bufford restarted his academic journey at the University of Missouri in the fall of 2018. He appreciates how the online program allows him to prioritize his studies when he has the free time needed to study and participate in class discussions.
"It suited me more as a student," he says. "I am able to study on my own and just do it my way."
Bufford had followed Brown — who currently works as a copywriter at Leo Burnett in Chicago — to Columbia as a freshman in 2010, after his friend, who is a year older, took the same path in 2009.
The acclaim that Souls of Liberty enjoyed, though, was not conducive for Bufford to learn in a traditional academic setting. He left Columbia after his freshman year, but always desired to earn a degree as a Tiger.
"I wanted to finish what I started, as I matured and understood life better," he says.
Bufford's musical path would lead him to help manage a well-known studio in Chicago, At The Studio, which is co-run with renowned record executive L.A. Reid and has had a wealth of Chicago's rap talent — including superstar Chance the Rapper — pass through its doors. The opportunity fell into his lap, he said, after starting at the studio as a recording artist.
"It made me realize how much more important business was, and that's what made me pivot towards business and get into this program," says Bufford, who returned to St. Louis in 2018.
Bufford says that he has never actively sought the role of social justice warrior, but much like his music, he has been provided a platform.
"I think my art put me in those spaces," he says. "People wanted to know what else I would have to say based off of the things that I've done in my art."
In 2014, Souls of Liberty released a song, "Stay Alive (RIP Mike Brown)," in response to the unrest in Ferguson, Missouri, after an 18-year-old Black man named Michael Brown was fatally shot. The song ended up going viral and getting radio play. It would become one of their most popular songs.
"I think Mike Brown made everybody get into different things that they might not have intended to," he says.
As the Ferguson area and surrounding communities continue to rebuild from that incident, Bufford realized that he could create real change in the quality of the social infrastructure of those communities by completing his degree at Trulaske.
"I think my life experience in totality has pushed me to want to understand business from a traditional standpoint, and make sure I can leave a real legacy," he says.
"I would want my children to look to my legacy and see that I did show and prove that this was important to me."
Adds Ryan Brown: "I believe in Tenelle. He has the experience and knowledge of hip hop and St. Louis to really make a change. Overall, I love his plan because we need someone from St. Louis to fix the problems in St. Louis."
CAROLYN LOVELACE | ELSBERRY, MISSOURI
For many years, Carolyn Lovelace knew that she wanted to complete her bachelor's degree — it was just a matter of finding the right time and the right avenue to do so.
It turned out that having two children enrolled in the Trulaske College of Business was the perfect time, and the online BS BA program was the ideal platform to be flexible enough for her busy life.
"It's something I've always wanted to do," Lovelace says. "When the kids were little, I really didn't want to take time away from them. Now, they're both in college, so I figured I might as well be, too."
Her son, Louie, is scheduled to graduate with a BS BA degree — as well as a geology degree — in 2022. Her daughter, Kara, should finish her BS BA degree in 2023. Both of her children live in Columbia and attend in-person classes, when possible to do so.
"So my poor husband has to put up with three of us in college," Lovelace says of her spouse, Jim. "He's taken to doing a lot of dishes, and doing a lot of cooking while I do homework."
Lovelace and her family run Lovelace Custom Services, a tree-planting operation in which they plant up to thousands of trees for one project at a time for various purposes — such as mitigation, conversation and riparian buffers — within a 12-state footprint. One of their largest jobs was planting close to 28,000 trees in an area of Mississippi that had been devastated by Hurricane Katrina in 2005. They can typically plant 500 trees a day, depending on the size of their work crew, which will often involve Mizzou students.
They are based out of Elsberry, Missouri, an hour northwest of St. Louis, but they can often be found in their truck, driving to a new work site. The company does not advertise, but repeat customers and word-of-mouth recommendations often clog up the calendar.
The Lovelaces also farm approximately 1,800 acres of land.
"Everything hits us all at once. The best time to plant a tree is also the best time to get your crops out," says Lovelace, whose Ford F-450 pickup truck already has more than 135,000 miles on it after two years of trips.
Such a backdrop can pose challenges from a learning perspective, but Lovelace has learned how to make it all work, taking up to 23 credit hours in the spring of 2020. She is scheduled to be finished with the program this spring after starting in the fall of 2019.
"You become very mobile," she says. "You take your laptop. You take your iPad. You take your phone, and a lot of times at night you pray the hotel has Wi-Fi, so you can actually log in and do your classes."
Before enrolling in the online BS BA program, Lovelace had taken more than 40 credit hours through online classes at a school in the St. Louis metro area before transferring to Trulaske — and receiving a transfer scholarship, which was a huge boost to being able to make her family's financials work.
Louie Lovelace says that the joint academic experience that he shares with Carolyn and Kara has created a deeper sense of empathy amongst the three of them.
"It's also made me realize that if she can be in 20-something credit hours per semester while working 60-hour weeks at times, I really have no excuse to not do well at 16-18 credit hours," he says. "She always likes to bring up how she's graduating before me, too."
Her son is also amazed at how well she has continued to work her day job at the same pace and still achieve high grades in her online classes.
Carolyn Lovelace credits some of her success to the ease of using the Canvas learning management platform, and the ability to coordinate with her professors to work ahead on different sections to avoid falling behind if she knows she has a particularly busy week on the horizon.
"When it's a rainy day, you go ahead and get your academic work done," she says.
Things have been going so well at Trulaske that she hopes to join its online master of accountancy program once she finishes her bachelor's degree — a possible extension of an academic journey that started with one decision.
"It's a lot easier than you think," she says. "You just have to do it."
JAMES LAMBERT | ROSWELL, GEORGIA
When it came to making his decision of where he wanted to earn his undergraduate degree, James Lambert always had a clear frontrunner — even though it was 10 hours away from his home in the Atlanta suburb of Roswell, Georgia. 
First starting when he was 4 years old, Lambert would visit the University of Missouri campus and attend Tiger athletic events when making family trips to see his grandparents. His grandfather on his mother's side, John Bauman, served as a professor of chemistry for four decades at Mizzou after first arriving in Columbia in 1962. 
"I've always felt the connection," Lambert says.
Lambert recalls walking into the venue that would later be named Mizzou Arena when it had just opened in 2004.
"I remember as a kid running up to the top row of that place, seeing the court from the very top row," he says.  Always fascinated by large buildings such as arenas and stadiums, at one point Lambert thought about becoming an architect — but eventually he decided to pursue a similar path at the Trulaske College of Business to that of his parents, both of whom are certified public accountants.
"Everything's a business," Lambert says.
Lambert has been in the online BS BA program since the fall of 2018. He hopes to finish his degree this May. He initially began his journey as a Tiger on the Mizzou campus in the fall of 2014. The highlights of his time in Columbia include playing snare drum for Marching Mizzou in 2015-16 at Tiger athletic events and at the St. Patrick's Day Parade in Dublin, Ireland, as part of a one-week music humanities course in March 2016.
In the spring of 2017, Lambert headed back to Georgia for a variety of reasons, among which was the need to have a surgery on his jaw to repair an overbite. The surgery, which took place in August 2017, would require large amounts of preoperative preparation and six weeks of postoperative bed rest. 
"The surgeon had to cut through my jaw to position my lower jaw to match up with my upper jaw so it was a whole ordeal," Lambert says. 
After his recovery, Lambert accepted a full-time job offer at AmTrust Financial, at their office in Alpharetta, Georgia, in the fall of 2017. He had familiarity with the insurance company and served in a temporary hire role in the summer of 2016. While working at AmTrust as an operations claim assistant, Lambert decided to enroll in the online BS BA program at Trulaske.
"I think Missouri Online has done a really good job of trying to integrate as much as they can with the professors," Lambert says. "They do a really good job of knowing you by your first name and trying to facilitate things in a way that makes them get to know you."
Out of all of the classes he has taken in the second chapter of his Mizzou career, his favorite was the Introduction to Business Law class (MANGMT 3540) he took in the spring of 2020, because of its modern relevance as a result of analyzing topics taking place in recent times. 
"Anytime you're able to take the relevant topic, bring it to the centerpiece of a class and really start a debate," he says, "I think that's valuable."