Overview
The online master's degree in technology in schools from MU will help you use innovative and effective technology to improve your teaching and your students' learning. If you want practical experience using technology as an effective classroom tool, this may be the degree for you.
The School of Information Science and Learning Technologies (SISLT) is a proud member of the iSchools consortium, an international coalition of leading information schools.
Quick facts
Official name
Master of science in learning technologies and design with an emphasis in technology in schools
Campus
University of Missouri
Program type
Master's degree
Academic home
College of Education | School of Information Science and Learning Technologies
Delivery mode
100% online
Accreditation
Higher Learning Commission
Credit hours
30
Estimated cost
$13,903.50
*This cost is for illustrative purposes only. Your hours and costs will differ, depending on your transfer hours, your course choices and your academic progress. See more about tuition and financial aid.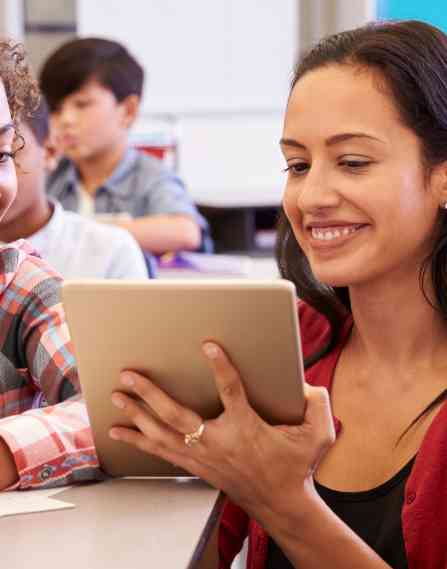 Career prospects
This degree has potential benefits for
High school teachers
Middle school teachers
Elementary school teachers
Instructional coordinators
Note: This program does not lead to initial teacher certification.
Bureau of Labor Statistics, U.S. Department of Labor, Occupational Outlook Handbook, 2016-17 Edition, Instructional Coordinators
Employment growth
Percentage by which the average base salary of a full-time teacher in a U.S. public elementary or secondary schools with master's degrees exceeds that of a teacher with a bachelor's degree, 2007–08. Snyder, T.D., and Dillow, S.A. (2011). Digest of Education Statistics 2010 (NCES 2011-015). National Center for Education Statistics, Institute of Education Sciences, U.S. Department of Education. Washington, D.C.
Average salary increase
Program structure
Delivery of this program is 100 percent online: no campus visits are required.
Courses are semester-based. Students typically take one or two classes each semester. Full-time students finish in two years.
Course work includes
Building strategies that advance teaching and learning with technology
Using technology to support teaching and learning
Planning, managing and integrating technology in an educational setting
Promoting the effective use of technology throughout the curriculum
Delivery
100% online
Calendar system
Semester-based
Typical program length
2 years (full-time students)
Typical course load
1 or 2 classes each semester
Accreditation
The University of Missouri is accredited by the Higher Learning Commission, one of six regional institutional accreditors in the United States.
Learn more about this program