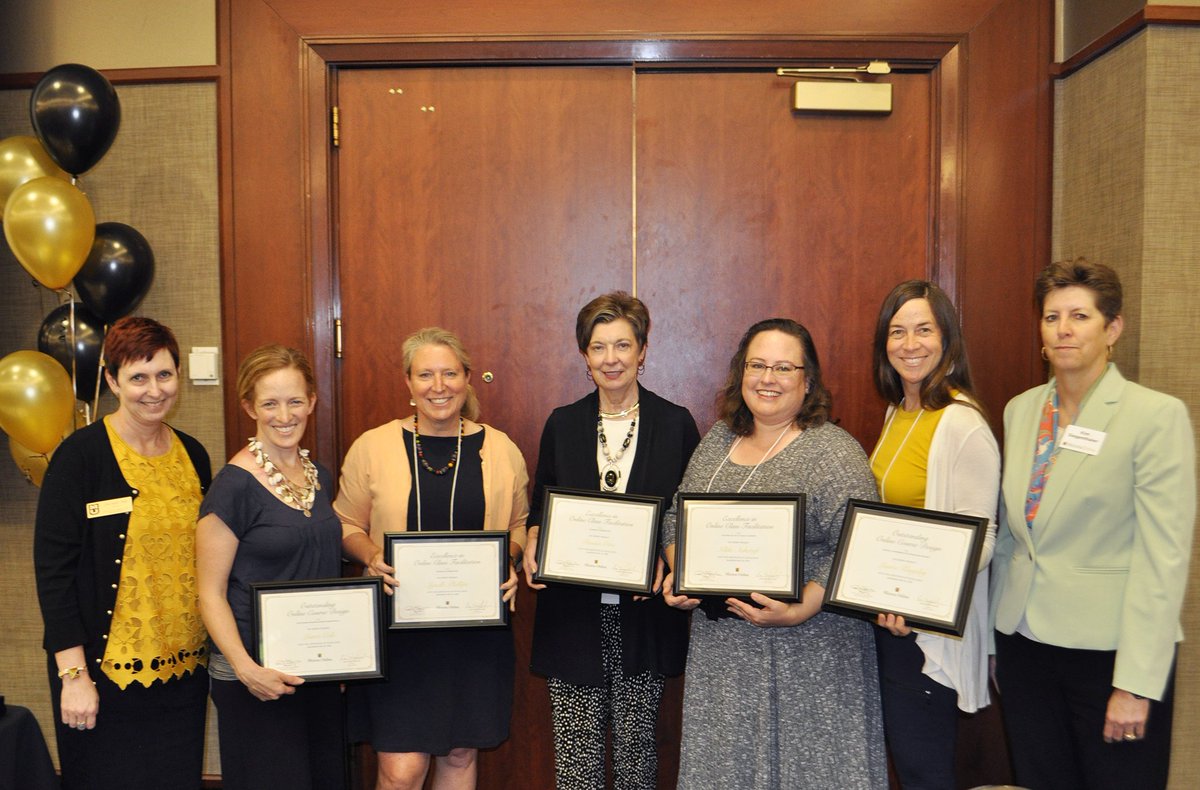 Mizzou Online award winners
at the Celebration of Teaching on May 16, 2018
Mizzou recently celebrated the commencement of more than 5,500 graduates, including more than 540 students who earned their degrees online.
To recognize the faculty that makes it possible for these graduates to earn a first-class education, Mizzou hosts the Celebration of Teaching. At this annual professional development opportunity, the MU community comes together to acknowledge educators for their unique approaches to teaching.
On May 16, at this year's Celebration of Teaching, MU recognized five faculty members for their efforts in designing high-quality online courses and excelling in facilitating online learning experiences.
This year's awards for Excellence in Online Class Facilitation went to Nikki Ashcraft, Lynelle Phillips and Donna Otto. The Outstanding Online Course Design Award went to Dr. Laurie Kingsley and Dr. Laura Cole.
Nikki Ashcraft is an Assistant Teaching Professor in the College of Education Teachers of English to Speakers of Other Languages program (TESOL) and has taught 100 percent online for seven years.
Assistant Professor Samuel Otten nominated Ashcraft for the honor and highlighted her work on the Teaching ESL/EFL to Adult Learners course. During fall 2017, Ashcraft facilitated student interactions across the globe with thoughtfully crafted discussion questions among students from the U.S., China, Korea and Ecuador. "Dr. Ashcraft's skill in engaging with students and promoting student-to-student interaction is widely evident," Otten wrote.
The second online class facilitation award went to instructors for the Sinclair School of Nursing, Lynelle Phillips and Donna Otto. Phillips and Otto worked on a redesign of the RN-to-BSN curriculum track, specifically aiming to improve the student experience in required group activities.
Laura Foley, academic technology liaison for the Sinclair School of Nursing, nominated both Phillips and Otto for the award. Foley wrote that the two professors deserve to be recognizedas they were "highly successful in improving group interactions in the NURSE 4970 course."
Laurie Kingsley, an Associate Teaching Professor in Literacy Education in the College of Education was nominated for her work on Making a Difference for Struggling Reader, a graduate course taken by practicing teachers.
Otten, who also serves as Chair of the Learning, Teaching, and Curriculum Faculty Awards Committee, nominated Kingsley for the outstanding course design award.
In the course, Kingsley introduced a collaborative opportunity between her students, and as Otten writes, "This extremely authentic task has been lauded by many of the students in both of the classes as one of the best experiences they have had in an online class."
Laura Cole also was honored for her exceptional work on an online course. Cole developed Sustainable Building Design Fundamentals with no previous online teaching experience. For this course, she was tasked with implementing an online laboratory, an approach that very few have attempted.
Not only did Cole attempt an online laboratory in her course, she succeeded. As her nominator, Jerod Quinn, wrote, "Dr. Cole went above and beyond creating this course to impact, benefit, and serve her learners in ways that educators dream about."
You might also like: