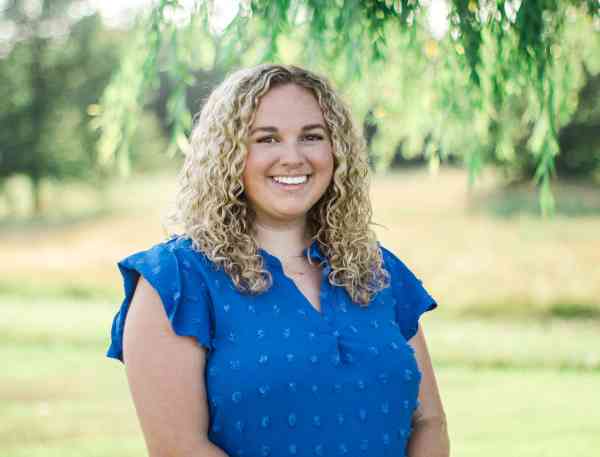 Missouri University of Science and Technology (Missouri S&T) alumna Shelby Burnworth graduated with a civil engineering bachelor of science in May 2020 and started her career at HNTB Corporation, an engineering firm based in Kansas City. She knew she wanted to pursue a master's degree in the same discipline and chose Missouri S&T's Department of Civil, Architectural and Environmental Engineering so she could complete her courses 100% online.
She attributes the time and money she saved to her choice of a graduate program. Through Missouri S&T's accelerated master's program, she was able to use nine credits from her undergraduate degree to apply toward her master's. Burnworth took 21 credits and graduated in just a year and a half. 
"I would've had to go somewhere else and pay thousands of dollars for those nine credits, plus I already knew my classmates and had the support of my advisors," Burnworth said.
As a bridge engineer in the structures department, she travels for projects out-of-state in Washington and along the Columbia River to design railroad bridges. After starting to work full time, she soon entered her master's for advanced courses in civil engineering, learning hard and soft skills.
"I like having that technical excellence to lean back on. It helps build your confidence in the workforce," she said.
The flexibility of the online master's in civil engineering program allowed her to choose some of her courses in other topics like project management that she says directly correlated to her job description. She regularly works with clients remotely and says her online classes prepared her with communication skills applicable to her job.
"Being able to grow as a person academically and technically has really helped me at work. I have a lot more confidence when I turn something into my task leader or my fellow coworker to check it. It definitely helps with that."
Specialized engineering fields
Burnworth didn't always know she wanted to work in civil engineering. She held internships in her undergraduate years where she discovered her passion for project management. But she missed the hands-on design aspect. She was able to find her current employer which merged both of her interests. She now enjoys field work, construction management and design in CAD software and 3D modeling. 
Missouri S&T has over 25 online engineering specialties for students to find their niche, with many of them offering flexible pathways to earn a master's degree with stackable graduate certificates or other options. 
"Everybody is impressed when you say Missouri S&T… that was another reason I wanted to stay with S&T."
Every day at work, Burnworth draws on what she learned from the practicing engineers who taught her courses. In one immersive assignment, she developed project scopes as an acting project manager.
"I liked knowing that my professors were pretty accomplished and I wanted to learn from the best so that's why I stayed there."
In December 2021, she attended graduation on Missouri S&T's campus where she got to connect with instructors and still stays in touch with them.
Online modality
When she first thought about pursuing an online master's while living several hours from Rolla, Burnworth hesitated. But she wasn't interested in taking night classes like her peers or attending in-person classes during the coronavirus pandemic. 
"It all went really well. It was a blessing in disguise because the teachers had to learn to be online that fall so it went really smoothly after that. I didn't have any worries about it at all."
Previously, Burnworth had only taken classes in person.
"I thought it would be a lot harder than it ended up being. I still have the flexibility of watching live courses if I wanted to, so I could ask questions anytime and have direct responses right then and there and still get that interaction with your fellow classmates as well."
She was positively surprised by how much she wanted to earn her degree and proceed with grit and determination to finish homework and group assignments.
"I thought master's programs would be you and only you, but many classes relied heavily on teamwork … I think it was a good experience because that's what you do in the real world."
She said she felt like she was being hit with a firehose of information at her new job and her master's degree gave her confidence to keep going. Her master's was extra practice for an ever-changing, innovative field like civil engineering. Civil engineers have to take continuing education credits each year to uphold licenses. 
"I think it's important for you always to be learning something new, especially with engineering. You need to stay up to date on world topics, new innovation and technology."
As for advice for new students, she cautions not to bite off more than you can chew, focusing on time management and asking questions.
"You have the freedom to take what kind of courses you want to take. If you're working at the same time and doing part-time school, take time to ask coworkers what classes they recommend you take."
About the program
Missouri S&T's 100% online master of science in civil engineering focuses on teaching sustainable solutions to transform infrastructure and building design. Built for aspiring civil engineering leaders to tailor courses to their needs. A flexible 30-credit program that is a "Best Online Program" by U.S. News & World Report in two categories. Visit the civil engineering page for more information and how to apply.
Contact us
For program and application questions, contact:
William Schonberg, PhD, PE, F. ASCE, F. ASME, Assoc F. AIAA
Distance Graduate Advisor and Professor of Civil, Architectural and Environmental Engineering
Email: wschon@mst.edu 
Phone: 573-341-4787