Overview
A MS(N) in pediatric nurse practitioner-primary care (PNP-PC) from MU can help you enhance your career in pediatrics. Continue working as you gain the knowledge and skills you need to advance. Learn from experienced practicing faculty who belong to a network of nurses across the nation.
Students who pursue the pediatric nurse practitioner-primary care MS(N) will:
Be prepared to deliver evidence-based comprehensive primary health care to children from birth through young adult.
Gain in-depth knowledge and experience in pediatric primary health care including well child care, promotion and prevention, and the management of common pediatric acute illness and chronic conditions.
Understand how to work independently and collaboratively to integrate advanced knowledge in the delivery of health care to pediatric populations including rural and underserved.
Be eligible for advanced practice nurse certification as a Pediatric Nurse Practitioner-Primary Care by the Pediatric Nurse Credentialing Center (PNCB).
Quick facts
Official name
Master of science in nursing with an emphasis in pediatric nurse practitioner- primary care
Campus
University of Missouri
Program type
Master's degree
Academic home
Sinclair School of Nursing
Delivery mode
Blended, some campus visits required
Accreditation
Higher Learning Commission, Commission on Collegiate Nursing Education
Credit hours
47
Estimated cost
$28,961.00
*This cost is for illustrative purposes only. Your hours and costs will differ, depending on your transfer hours, your course choices and your academic progress. See more about tuition and financial aid.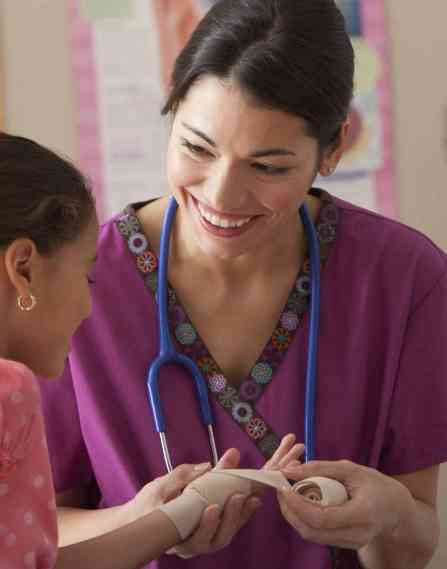 Career prospects
Seamless BSN-to-DNP with an MS(N) option
This MS(N) program makes it easy for you to continue your education and earn your DNP if you choose. With this program, you have the opportunity to sit for your APRN certification and start earning more while you're starting your DNP course work. Courses have a focus on supporting you as you transition to practicing as an APRN.
Sinclair School of Nursing
Job placement rates
Sinclair School of Nursing
Certification pass rates
Program structure
This program is blended: You may complete all course work online but an on-campus visit is required once per year.
Courses are semester-based. How long it takes to complete the program depends on your academic progress so far. If you want to study part time, the program will most likely take you three years to complete.
Delivery
Blended, some campus visits required
Calendar system
Semester-based
Typical program length
3 years
Typical course load
Part time
Faculty spotlight
Tammy Rood is a pediatric nurse practitioner and certified asthma educator in the Pediatric Pulmonary & Allergy Division for MU Health Care and the PNP area coordinator. She specializes in treating pediatric asthma. Tammy is Associate Director of Asthma Ready® Communities (ARC) and contractor for the Missouri Asthma Prevention and Control Program, working statewide with clinics, schools and communities to improve asthma care. She is a faculty member on Asthma ECHOs through Show-Me ECHO (Extension for Community Healthcare Outcomes). Show-Me ECHO uses videoconferencing technology to connect a team of interdisciplinary experts with primary care providers. A case-based learning environment is used to assist ECHO participants to develop advanced clinical skills and best practices – extending specialty care into primary care.
Learn more about this program